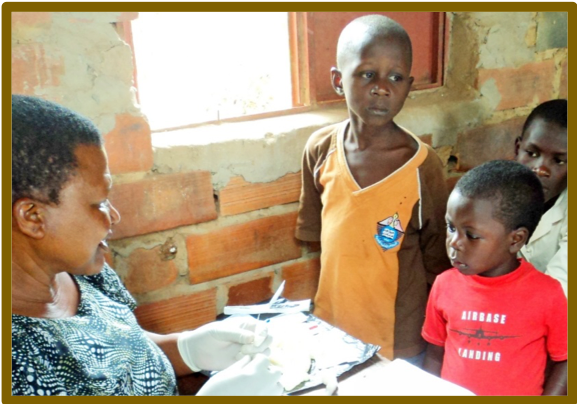 Villagers face health concerns that diminish their ability to improve their lives.
HIV/AIDS, malaria, childhood illnesses such as measles, tetanus, parasitic diseases and malnutrition devastate communities.
HIV/AIDS in particular has caused immeasurable damage.
Large numbers of HIV-related illnesses and deaths from AIDS have a particular impact on education and agriculture, overburdening community resources. In order to confront these issues BkB runs a mobile clinic which visits remote villages taking professionals to the communities.
Health Education plays a critical role in the work of the Mobile Clinic following our philosophy of providing sustainable training to communities, the health workers training villagers who then pass on their knowledge to their communities.
The Home Visitors engage with families who have multiple health issues. The Health Visitor will support families of orphans giving them practical help in matters of hygiene and nutrition.
Donations:  Children do their homework by the light of paraffin/kerosene lamps.  These cause serious indoor pollution which can damage the eyes and often result in respiratory problems.   Solar lights are the answer and cost around £8.50 each.  (2021)